Conference Room
---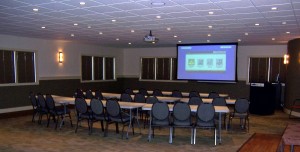 The Oldman River Regional Services Commission has a newly renovated multi-media conference centre. It is availabe to rent to our member municipalities and other approved organizations such as volunteer groups, businesses and clubs. Some of the features of the conference centre include:
Over 2,500 square feet of space
SmartBoard system
Large projection screen
Public address system
Theatre-style seating for up to 100 people
Banquet-style seating up to 80 people
Classroom-style seating up to 50 people
Tables
Complete kitchen (stove, fridge, microwave, dishwasher, serving counter)
Washrooms
Coat room
Browse some photos of the conference centre below:
Rental Rates:
ORRSC Member Municipalities
Other Approved Organizations
Monday – Friday: 8:00am – 4:30pm
Monday – Friday: 5:00pm – 10:00pm
Saturday – Sunday: 8:00am – 10:00pm
$50
$50
$50
$150
$200
$250
Room Set-up / Take-down (optional)
$25
$25
Damage Deposit
N/A
At discretion of ORRSC
Room Layout Options:

Services Available
Sound System and Audio-Visual Equipment

– A sound system (clip-on microphone) and smart board are available as well as a pull-down screen for presentations.

Coffee Service

– A coffee machine and glass mugs are provided (as well as sugar, coffee-mate and stir sticks). The renter may bring their own coffee or purchase packets from ORRSC for $5/pot (8 cups). All other beverages must be supplied by the renter.

Kitchen

– A refrigerator (no freezer) is available to store food, but any existing contents (juice, pop, etc.) is the property of ORRSC and cannot be used. The kitchen is also equipped with a microwave, stove and dishwasher.
Renter Responsibilities
Access

– If access is required before 8:00 am or after 4:30 pm Monday through Friday, the renter must arrange to pick up a Conference Room key during regular ORRSC hours (Monday – Friday 8:00 – 12:00 and 1:00 – 4:30).

Room Set-up

– The renter may elect to be responsible for room set-up or employ ORRSC staff. A total of 20 tables (30″ x 72″) and 100 chairs are available (see sample layouts). If the renter chooses to do their own set-up, they are also responsible for returning all tables and chairs to their original positions.

Plates, Utensils, etc.

– If food is being served, it is the renter's responsibility to provide all plates, utensils, napkins, tablecloths, etc.

Cleanup

– The kitchen should be cleaned to its original condition. All used glasses or mugs must be placed in the dishwasher. All garbage must be bagged and disposed of in the dumpster in the north parking lot.

Key Return

– Following the event, the renter must lock the Conference Room door and leave the key inside on the mat.
Booking Information
Contact ORRSC

– Check for Conference Room availability by contacting Barb Johnson at (403) 329-1344 or admin@orrsc.com
Submit Rental Application – ORRSC Conference Room Rental Application (PDF)

Payment

– Payment is due

prior

to the event by cash, debit or cheque (payable to Oldman River Regional Services Commission). Member municipalities may choose to be invoiced following the event.
Please advise those attending your event to use the north parking lot and entrance. Access to the Conference Room through the ORRSC office will NOT be permitted.